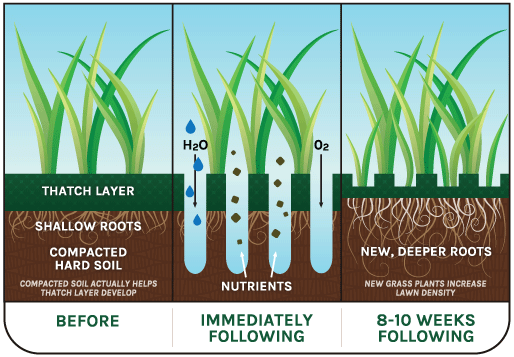 LAWN AERATION AND SEEDING
Sterling Tree & Lawn offers comprehensive Core Aeration service for your lawn. Core Aeration is a process that removes thousands of small cores from the lawn and soil profile and then is completely amended with a combination of lime, grass seed and starter fertilizer. The aeration process allows increased water infiltration and nutrient absorption. Microorganisms are allowed to feast thus decomposing thatch and conserving valuable topsoil. Lawns are can be aerated in the spring or fall, however seeding must occur in the fall.
Constant foot or mower traffic can cause soil compaction over time. Compacted grass roots struggle water and nutrients. Annual Core Aeration will mitigate soil compaction and create beautiful lawn.
BENEFITS OF AERATION:
Control harmful patches.
Increase root development.
Reduces soil problems.
Increases water retention and lowers water bills.