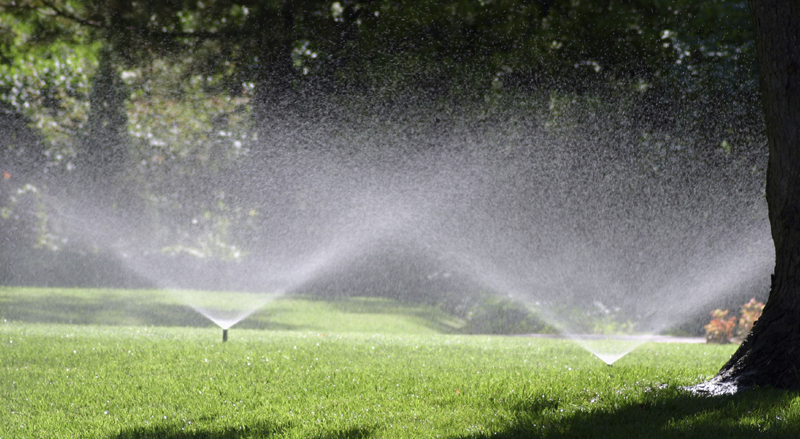 IRRIGATION SYSTEMS
On the surface, your lawn is as a place of respite and relaxation. In fact, that green expanse is actually the most resource intensive part of your landscape. While your lawn requires more water than any other part of your garden, either too much or too little water can damage it. Effectively planned, your garden will be watered to coordinate the soil type, the seasons, your lifestyle, the type of grass, and your local watering ordinances, if applicable.
The early morning is generally the best time for the lawn to be watered. During the night, excessive moisture on the leaves attracts pests, and disease, and in the heat of the day, most of the water evaporates. An automatic watering system that is adjusted according to the sunrise is useful, or if local ordinances limit the time of day your lawn can be watered.
WATERING AND FERTILIZERS AND/OR PESTICIDES
In order to optimize a fertilizer and/or pesticide lawn treatment, a proper watering schedule needs to be coordinated with your lawn treatment schedule. Fertilizer will be diluted and wasted if the watering system interrupts the treatment. A professional can save you the expense of under-fertilizing, applying the wrong formulation, or transmitting potentially harmful ingredients to nearby trees or shrubs.
PROFESSIONAL MAINTENANCE OF UNDERGROUND SPRINKLER SYSTEMS
Underground sprinkler systems are a wonderful convenience. Occasionally they may need adjustment, and before the first freeze, the water remaining in the lines must be blown out with compressed air. Sprinkler heads should be adjusted to provide maximum coverage of the lawns, and minimum overspray to hardscaping (patios and driveways).  The lawn and shrubs both have very different watering requirements and should be watered independently. Some require daily and others bi-monthly, such as boxwoods. This is why the lawn and shrubs must be on separate, independent zones.