Winter Burn in the Spring on Long Island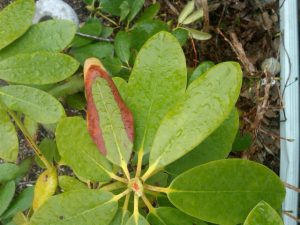 What are those brown and wilted leaves in patches on my plants and trees? After a long harsh, winter, our trees can look terrible when the weather starts to warm up. Spring is synonymous with green so we expect the same from our landscape. These brown patches are known as wind burn. What happens is that the wintry winds are drying out the moisture in the leaves causing them to look like they've been set on fire. The ground is too cold and frozen to be able to bring any moisture up so it ends up being a long dry winter for our plants. The biggest mistake is to blame it on tree spraying treatments against bugs and ticks or to think that more water will fix the situation
Prevention starts in the winter by applying a substance that covers the leaves and prevents too much water loss while still letting the leaves breathe. Depending on which kind of tree and the weather conditions, there is varied success when using these sprays.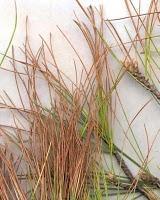 A bigger leaf area that can be covered easily can work better then a needle evergreen. In any case, this needs to be done when the temperatures start dropping. What can be done now while temperatures are rising?
Firstly, there is a chance that the burnt leaves and branches will come back so before cutting anything, give it some time and consult with your arborist. It is a delicate situation because you don't want to hastily cut anything away but if dead branches are left on the tree too long, it could bring fungus. Call an Arborist!!
Pruning – when done right – i.e. knowing how much to cut back, will help the tree rebound and become stronger. This should be done together with deep root feeding and giving other nutrients to the trees that have been depleted by growing in an unnatural environment. As we groom our trees and take away the unsightly foliage around the lawn, we are taking away their natural source of minerals and nutrients. These need to be replaced with deep root feeds that will reach those higher, external branches. But be careful, because fertilizers contain mineral salts which can dry out the leaves more and make things worse. Call an Arborist!!
This helps understand what is happening to the trees lining these beautiful Long Island properties, but in the end of the day a professional Board Certified Master Arborist needs to be consulted to assess the symptoms that the trees are showing. Often times there could be other problems occurring simultaneously. Sterling Tree and Lawn has over 25 years experience with the varied landscape conditions on Long Island and has what it takes to keep your property looking better than it ever looked before. We are experts in tick control and saving trees.