What do you do if you find a tick on your skin or on a child?
Not all ticks are carriers of Lyme disease so there is no need for hysteria but it should be removed promptly because if it is removed in the first 36 hours there is less chance for transmission.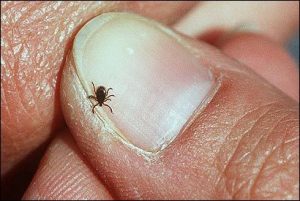 Do not try and take the tick our with your bare hands. This can spread more infection. You should use a tweezer and without squeezing the tick, put it as close to the skin as possible and slowly pull straight up to remove the tick. Then you can wash the area with a disinfectant.
If by chance there are small parts left in the skin when the tick is removed, it's no big deal because they are not toxic and will fall out in a few days. Watch the area of the bite and see if a rash develops or flu symptoms are seen. East Long Island is very known for deer tick and other types of ticks so if a person is sensitive to bites, it might be wise to start an antibiotic within 3 days, even as a precaution. See a doctor if any symptoms are noticed.
The old myths of how to remove ticks can be very harmful. Those include trying to put a hot match close to the tick or pouring something over it like alcohol, etc. All of these methods can aggravate the tick and cause it to pour more bacteria from its guts into your skin.
Sterling Tree is a Board Certified Master Arborist, that has over 25 years experience treating Long Island homes against ticks and mosquitoes, as well as saving valuable trees on the beautiful Suffolk County landscapes. Call Sterling today for a free estimate.